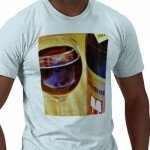 The weather was certainly right for Spaten's Optimator: Cold, dark and rainy. With a fireplace being absent from the architecture of my home the 7.2% liquid warmth was a welcome sight as it filled my glass. Optimator is a classic example of a Doppelbock, a bottom fermented (lager) beer that utilizes malts that produce toasted an nutty qualities and has a higher than normal (doppel/double) alcohol content. Apparently this style of beer was developed by a German order of Minim monks (St. Francis of Paula, Italian in origin). These Minimums are noted for having named their doppelbock "Salvator," which is utilized by the brewer, Paulaner. The religious ties to beer never ceases to be a fascinating study!
The Pour:
Spaten's Optimator fills the glass with a dark brown mahogany deliquescent fluidity. There is a reddish quality hidden in the darkness. A ample malty head, dense and thick leaves awesome sticky lacing behind. The beer itself is remarkably clear, a bonus from lagering.
The Nose:
The sweetness of Optimator dominates the aroma. A strong whiff of caramel, vanilla, chocolate, and slight fruitiness (cherry/berry) block out hop aromas. The smell is simple, but pleasant. The smell alone could convince a non beer drinker–partial to sweet mixed drinks like chocolate martinis–to venture past the foreboding darkness.
The Taste:
This is one of those cases where what you smell is what you taste. Caramel and toffee are dominant. There is a nutty flavor that wasn't so obvious in the aroma. The beer is very smooth and easily drinkable. Like the smell, it isn't a mind blowing complex mixture of exotic flavors…but does a beer have to be so intense to be good? Not so! Optimator is delicious!
Overall Thoughts:
Optimator is a great beer, and as mentioned above, could be a great choice for luring a loved one into the delightful folds of beer.
Nate's Rating:
Overall Satisfaction:





Among other Doppelbocks: