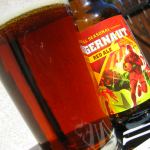 Written by: Scott from Manlandsite
It's that time of year, my friends. Summer is coming to a close and Fall is upon us. The days are getting shorter, the propane in the BBQ grille is getting lower, and the beer offerings by brewers are getting darker. Oktoberfest is just around the corner …
In that spirit, many breweries release seasonal beers that are available only for a limited time frame. Pyramid's Juggernaut – an American Red Ale – is a "Fall seasonal" beer that is only offered during the months of August and September. Juggernaut melds caramel malts and two varieties of northwest hops.
What is a "juggernaut?" It's a "massive, inexorable force that crushes everything in its way." At 5.6% ABV, this Juggernaut is a bit tame as far as its name is concerned. Let's just see what's lurking inside the 12-ounce bottle. (The beer is also available in a 22-ounce bomber.)
The Pour:
Ah … this is a very pretty beer. Juggernaut pours with a deep, rich, red body. A two-finger thick, eggshell-white head gets its foam fuel from a constant stream of medium-sized bubbles. (Take your time with the pour as the carbonation in this beer could produce a foam fest.) There's also a wee bit of lacing left behind after each sip.
The Aroma:
Juggernaut is built on a malt foundation of 2 Row, Carared, C-120, Carafa II, and roasted barley that's bolstered by Simcoe and Cascade hops. Make no mistake: this is a Pacific Northwest brew. As soon as you pop the cap, the ever cliché citrus, grapefruit and pine tones are present, as well as some malt sweetness.
The Taste:
Ready. Set. Sip. My taste buds confirmed the presence of grapefruit, pine nuts, and maybe even a smidgeon of guava. Mid sip, caramel malts made an appearance — and then finally, a malty, pine-like spice lingered momentarily post-sip. Despite the hop presence, Juggernaut is fairly balanced, however, at 45 out of a possible 100 IBUs (International Bitterness Units).
Overall Thoughts:
In a subtle way, Juggernaut reminds me of a former "Sip with Us Saturday" beer: Stone Brewing Co's 13th Anniversary Ale. If you've tried the Stone 13th, imagine a lighter beer version of it. Granted, Stone's is an Imperial Double Red, so one would expect a bolder flavor. Juggernaut has a very similar taste profile, but it lacks the body and stickiness from tons of citrus/pine-hop infusion. (Come to think of it, Stone should have named their beer "Juggernaut.")
Juggernaut is a respectable red ale that is a good warm up for transitioning from lighter, Summer-style beers to the darker, thicker styles of Winter. It has enough body and hop presence to break in your palette slowly to the bolder flavors of bigger, bad-weather beers, while it is light enough to still be somewhat "sessionable."
Before I wrap up and send the bottle to the RECYCLE bin, allow me to say "thanks" to Nate and Mike for allowing me to do this guest beer review. Nate: thanks for calling me a fellow "Beer Geek" in your last "Sip with Us Saturday" post. I'm not sure I've attained such status yet, but the fact that I just bought my first bottle of $18 beer yesterday hints that I may be very close to succumbing to the coveted title.
Cheers, guys!
Scotts Rating:
Overall Satisfaction: