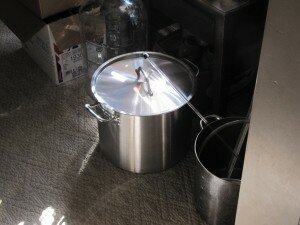 Well, the rewards are now, for the most part, in the mail. To send Kickstarter rewards to 372 people is not an easy task, and I'm pleased to say that swag is in the mail. Barring a small issue here and there, we have fulfilled, with joy, our obligation to send out rewards for our fundraising efforts. We are glad to have them done. But that isn't the end.
Our next obligation is to start getting our great beer into the Kansas City area. There is plenty to do. We have a location to find, equipment to purchase, and all the government processes to work through. However, we are getting ready to turn on the jets as the new year has begun.
This seems as good a time as any to re-iterate our thanks for all the support we have and are receiving from all of you. 2011 was a year that we can look back on and be very thankful. Our hopes for a great 2012 are high. By all appearances, Wilderness Brewing Co. will be a working reality by the end of 2012.
When I reflect on that fact alone, I just beam with excitement…I know that Nate does as well. So please keep looking out for us and keep letting everyone know that our Wilderness wanderings are bearing fruit and that you have been happy to journey with us.
It's going to be a great 2012.