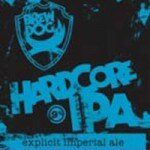 There once was a time when I exerted a LOT of effort searching out beer stores, trying to find the next greatest beer. This practice subsided–nearly stopped–when I realized the next greatest beer was the one brewed in my driveway. That being said, I still get a huge kick when I stumble upon a store with a great beer selection. On the way home from the lake the other day, I popped into a cool little liquor store, cleverly named "Olive-or Twist." The beer selection was small, but great. They have a nice selection of craft and imports that aren't typical to the area. My heart soared at the sight. One of the brews I walked out with was Brew Dog's Hardcore IPA.
Like many craft beer nerds, we've had a love/love a little less (but not hate!) relationship with Brew Dog. We've enjoyed many of their beers, we've liked that they push the boundaries of what 'beer' should be, we stood by their side as they were slammed by the critics for their first high alcohol brew (32%), but got a little irritated as they went hog wild trying to hold the title of 'brewer of the world's strongest beer.' That being said, I had never tried Hardcore IPA…a more standard offering of the brewery. I've had their Punk IPA, but it didn't do much for me. I've heard mixed reviews about Hardcore IPA, so I kept my expectations at a minimum. And they were drastically surpassed.
Hardcore IPA was EXCELLENT…far more worthy of the B rating it receives on Beer Advocate…but I've never been to put much stock in lemming mentality. I am not going to wax poetic on the qualities of the beer…just go try it for yourself. BUT, I do want to point out a few observations.
Hardcore IPA does not taste like your standard American craft Double IPA that is bursting at the seams with flavoring hops, usually of the cascade variety. In fact, Hardcore IPA is more along the lines of an American Barleywine, where the hops qualities are more of a subtlety. Does everything have to be so damn hoppy all the time? Don't get me wrong…I love me some hops. But when everybody is brewing the same things the same way, you won't find me there.
The fact that Hardcore IPA could be classified (and rightly so) as a Double IPA (or as Beer Advocate states and "American" Double IPA–waht?!?!) shows that there is a LOT of ambiguity still amongst beer classifications. One person's IPA is another's Barley Wine, and can be classified as such either way. What really hit me is the difference between two nation's versions of Double IPA and general brewing style altogether. Part of the reason I liked Hardcore IPA was that it occurred to me while drinking it, that IF the IPA style existed also in the form of a Double back in the early to mid 1800s, I think it would have tasted a lot like Hardcore IPA (brewed in Fraserburgh, Aberdeenshire). The beer is very English/Scottish…and not very American…which is a part of its appeal. I suppose that may be part of the reason the beer doesn't fare so well on Beer Advocate. Beer nerds see "Double IPA" and expect the bombastic enamel-eating highly alpha acids that they're used to.
Ehhh…drink what you like…not what everyone else likes.