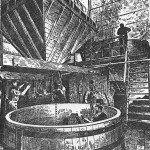 Given that an opportunity lies before us, we are taking it as a chance to make an announcement. We are opening our brewery. For those of you who read the site regularly, you know it is something we frequently muse about. However, something you do not know yet is that we have been in the serious planning stages for opening our brewery throughout this past year.
We are going live with our fund-raising on May 31st. We will have a much more thorough and detailed post for everyone on May 31st, so please stand by and keep us in mind for the next week and few days.
Right now, we are finishing the details of the video, have a terrific graphic, and are in the midst of making contacts with friends, family, and fellow beer writers. Please watch for us to make the official announcement and help us realize the dreams we share. Keep in mind, this has been a process in which you–our readers–have played a pivotal role. All the interactions we've had with you have inspired us many times to pursue our passion, and we want you to be amongst the first people we share our good news with.
Cheers!
Mike and Nate
<–noadsense–>