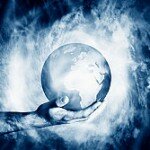 As many of you know, the world is becoming more and more conscious of environmental issues.  The beer world is no exception, and breweries are scaling back their carbon footprint.  Some breweries are even boasting that they have gone all green.  I think this practice is imperative if we are going to keep perpetuating the sorts of lives we want to live.
But for every environmentally thoughtful person, there is the skeptical counter-part.  It's baffling to me, but Oil Can Brewery in Houston, Texas, is now boasting that, per volume, they leave the largest carbon footprint of any company in the world.  They've put measures in place to ensure that this happens.  For one, they run everything they possibly can off gasoline and make attempts at inefficient heat transfer and the like.
"We simply aren't concerned with environmental hazards. We believe it's a myth and are out to prove a point.  In a world full of extreme beers, we are staking our claim as the highest polluting company per volume on the planet.  What better beer to prove that than our Pollution Stout," says Shooter McKoy of Oil Can Brewery.  (For more, click here.)
Everything about this brewery is stereotypical Texas from the name of the brewery to the name of the owner.  Maybe it's not so creative after all; in fact, it sounds made up.  However, this beer is getting great reviews on Beer Advocate, which has a proclivity toward rating extreme beers very highly.  I guess it doesn't matter what the extreme is or what the cost, this beer is sure to be sought after now.