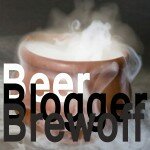 Of all the doors that are flung open by that which we love, beer and brewing, the most gratifying is the fellowship that occurs amongst like minded individuals. A classic example occurred on a Sunday not too long ago in which myself and a few other beer bloggers, under the organization of Peter, from Simply Beer, all brewed the same recipe, each with one minor alteration. As is the case with our Sip With Us Saturday, it was nice knowing that a few friends were partaking in the same experience at the same moment in different areas of the country.
After our beers fermented, conditioned, and carbonated, we sent two bottles out to each of the other five participants:
Aaron – Captain's Chair
Derek – Luther Public House
Erik – Top Fermented
Joseph – Hopfen Treader
Peter – Simply Beer
Last Friday, we all connected vis Skype, a first for this technologically backwards beer geek, and sampled each others beer. I was quite surprised how it nearly seemed as if we were all sitting in one of our kitchens or a quiet pub. Even more surprising, was the profound difference between the beers. Remember, each beer was identical in recipe, save one alteration, addition, or subtraction.
Our brews were incredibly different, but each was tasty. Keep in mind each participant used a different water source, a HUGE factor in a beers make up.
My addition was maple syrup, though I had contemplated this:

Peter recorded our interaction…please take a listen! If you like what you hear, join us for the next blogger brewoff!