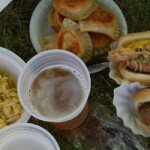 I have yet to find anything that beer is not compatible with, and festivals are no exception. Here in Toledo, OH–a historic melting pot of elasticities–there are numerous festivals held to celebrate any given facet of the city's heritage. The Greek fest, the German fest, the Latino fest…they're all a blast, but it is the Polish fest that holds a special place in my heart, as I grew up on my grandmother's authentic polish recipes that came to America on the ship when her parents immigrated here.
About a month ago our family of seven hit up the polish fest. The food was incredible. The sour cabbage and butter noodle, the pirogi, and the kielbasa tasted like they came right out of Busha's kitchen; in fact, I'm sure they did. While the only polish beer available at the festival was Okacim–just and average beer in my opinion–it worked great with the rich food. Besides, the ambiance of the festival made it that much better.
Interestingly (but not surprisingly) nearly EVERYBODY at the polish festival had a brew in their hands. And everybody was happy.
The great thing about these festivals, is that for a few hours you forget that you live in rust belt America. You forget the abandoned factories, the foreclosed homes, the cell phone that was stolen out of your minivan in the middle of the night, and the ghetto bass booming out of your neighbor's garage that disrupts nearly every thought, and you feel like your in a different country, eating different food, drinking different beer, and listening to different music (polka!). And all for a few bucks.
The bottom line is, we as Americans are quick to forget our roots. I'd say folks who like better beer may have a more well rounded sense of "culture", having sampled beers from around the world on a regular basis. Festivals such as my beloved Polish fest are an opportunity to embrace and revive the past, and also remind the festival goers that not all beer is bland and brewed in St. Louis, Missouri.