In a recent post, Mike made reference to the beautiful artwork adorning the outside of North Coast Brewery's, Brother Thelonious. I could not take my eyes off the label as I drove home from the market. It was intriguing to me as I considered that North Coast, in my opinion, never fails to deliver a great looking logo, regardless of the complexity or simplicity of the design.
Clearly, the aesthetic qualities of a bottle of beer (or the lack thereof) will not manipulate my taste buds into appreciating a particular beer more or less, but they may arrest my attention as I stroll down the beer aisle. If anything, they will leave me obliged to the brewer for putting heart and soul into every detail.
On the other hand, drinking a nasty beer out of a beautiful bottle irritates me. Besides feeling betrayed as my anticipation gives way to a sour face, the contents of the bottle should always supersede the clothing of the bottle (in my opinion).
Anyway, here is some 'bottle art' that I enjoy.
Anything by By Flying Dog Brewery:


The North Coast Brewing Company line up:


Nosferatu, Great Lakes Brewing Company:


Fiddler's Elbow, Wychwood:


I stumbled across these labels, designed by Tim Nyberg, looking for a bottle to call home. I love the look and style of the artwork: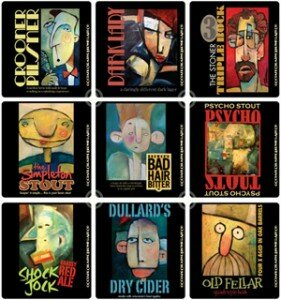 What brands/labels do you find attractive?
To what extent do think label art affects the sellability of the beer?