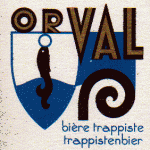 With Thanksgiving officially behind us, it seems natural to segue into some Christmas and seasonal beers. What better way to do that then to first indulge in a true trappist beer? While all Monks have devoted their lives to the adoration and propagation of Christ, the focal point of Christ-mas, some monks have also devoted brewing beer, which has historically been given away to weary travelers and/or sold to support the monestary and various charities.
Yes, we are aware that there may be followers of this site who disdain religious things, maybe even Christmas itself…to these folks we ask that you just enjoy the beer, Oval, just as when we sipped on Nosferatu at Halloween we did not suggest that our followers participate in a vampire cult.
Anyway, Orval is a world class, highly regarded beer. Take some time and visit the brewer-monks' website. Upon entering the website one reads, Let all guests that come be received like Christ, for he will say, " I was a stranger and you took me in." I suppose that statement simply sums up the good-will-toward-men spirit of Christmas.
Throughout the pious site, one will find that beer was and still is regarded my the monks as not only a delightful and sacred beverage, but a viable form of nutritional sustenance; in fact, they refer to it as "liquid bread."
So this Saturday, fill your glass with some liquid bread and raise a toast to the monks, to whom the brewing world owes much for their development of the science and art of brewing.